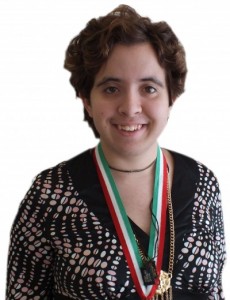 Jessica Andrade
CICE Intern
Jessica is a Community Integration through Cooperative Education student who is interning at Humber Et Cetera. CICE provides for adults with developmental disabilities to participate in the college experience to provide transformational learning.
I am a member of the Institute of the Incarnate Word, and a member of the Third Order. On the eve of Ash Wednesday last week, I went to church. I go every day too because it keeps me out of trouble. I also go to the youth group every Saturday and Sunday, where I say the rosary club on the podium right before Mass. The past few days leading to the start of Lent have been very important to me, and many other Catholics and other Christians.
Last week was the feast of Ash Wednesday, when we remember the day right after Jesus Christ went to the desert for 40 days and 40 nights without food or water.
During this time, most Catholics and other Christians get together at Church to get ashes placed on their forehead, then fast for 40 days and 40 nights. Fast means no meat, so we eat fish instead. Ash Wednesday is a preparation for Easter, and Friday most people give up something they like, the same way Jesus Christ knew one day he would have to give up so much to save the people from their sins.
Catholics also get together to do the most famous prayers, like the Stations of the Cross, which lead us into Easter. They even celebrate the patron St. Joseph Day when Pope Francis marks the feast when St. Joseph died in the care of the Blessed Virgin Mary and Jesus Christ, and then became the patron saint of Canada.
On the feast of Holy Thursday, just before Good Friday, we remember when Jesus shared a meal with his disciples before being betrayed by Judas Iscariot. On Easter Sunday, Catholics and other Christians, including Pope Francis, celebrate the Holy Mass that marks Jesus Christ's resurrection from the dead, and ascent to heaven the next day on Easter Monday. We wait for his return.