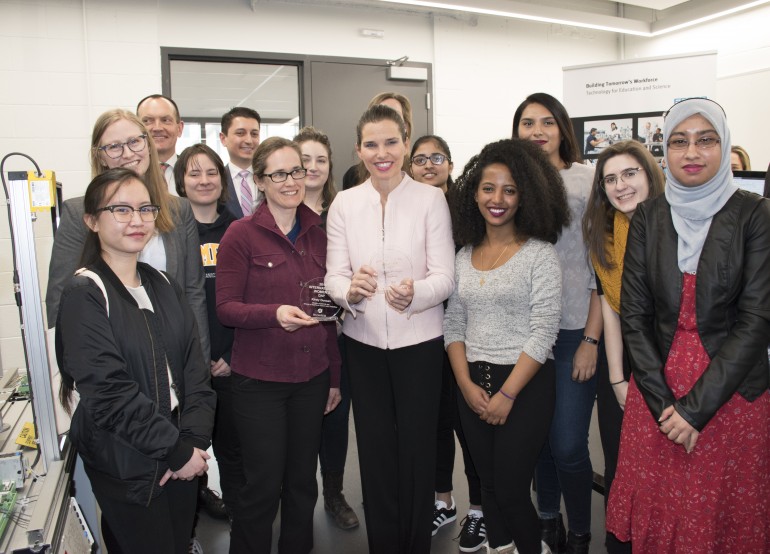 Kirsty Duncan visited North campus in celebration of International Women's Day.
(Ornella Cariello)
Frédérique Ndatirwa
News Reporter

Computer engineering student Maheshwerie Samaroo demonstrated an app that could save lives.
Samaroo with Humber colleagues Mohita Prabhakar and Karandeep Singh showed how a breathalyzer device connected to the app would measure blood alcohol levels. And if the device told the user they were impaired, it offered safe options, like a connection to Uber.
They were showing off some of the trailblazing work Humber students have been doing to Kirsty Duncan, the federal Minister of Science, Sports and Persons with Disabilities, who toured North campus Thursday in celebration of International Women's Day.
It was part of a whirlwind trek that took the minister from Science, Technology, Engineering and Mathematics (STEM) courses to the Athletic Centre to rub elbows with the varsity basketball team who won provincial gold last weekend.
"With our device, along with the app, anyone who is going out to drink would be able to check themselves and see if they are okay to drive," Samaroo said as the minister's tour began in the prototype lab.
"If they are not okay to drive, the mobile application will give them the option to call two emergency contacts, or there's a functionality that we made call Uber that redirects them to the Uber app," Samaroo said.
The room had about 20 women involved in STEM who demonstrated the advancements Humber women have made in the male dominated field. Brandeen McDonald, who took the minister on her tour, said the prototype room "is a place that empowers [Humber's] students."
Duncan seemed impressed. The minister, who prides herself in being born and raised in Etobicoke, described the college as "a touchstone of Etobicoke."
"We are really working on getting ahead" in the STEM fields, said Jessica Little, a first-year electromechanical engineering student.
She was demonstrating an industrial robotic arm to be used on a production line which she made this year with her all-female group.
The training and the tinkering that they do is all "so that once we get out there we will be ahead of the industry," Little said.
"We have accomplished a lot, yet we still have a lot to accomplish," the former associate professor of health studies at the University of Toronto said. "We need more women in STEM.
"As a former scientist I can tell you, we need you," Duncan said to the STEM students as she applauded their innovation.
The tour continued with a lunch where Duncan addressed the room packed with students and faculties from various departments.
"I was asked how I wanted to be treated — as a scientist or a woman," Duncan said.
"Remember, impossible is a dare. Impossible is temporary and I know all of you can change the world."
The minister then met with a Humber woman who is living her dream.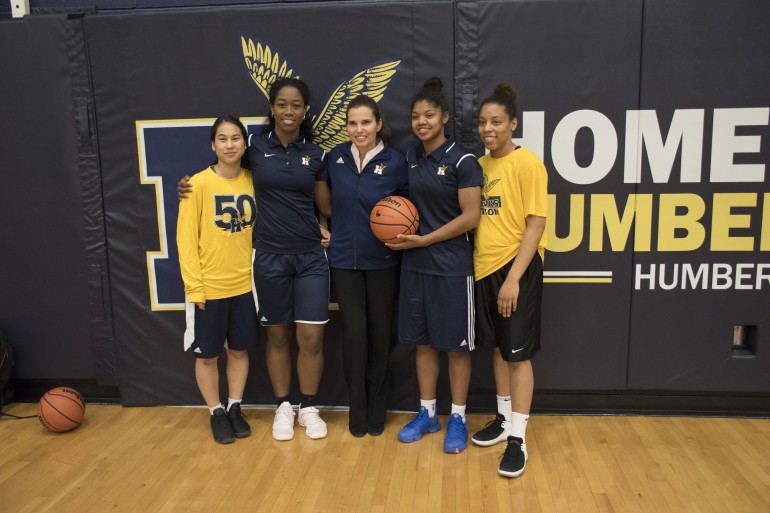 Ceejay Nofuente, 24, and Duncan shot some hoops as the Humber's women varsity basketball point guard celebrated for their groundbreaking season. The team made history when it won its fourth consecutive provincial championship on March 4.
Nofuente, who is no stranger to making history, spoke with the minister, who is also MP for Etobicoke North, and presented her with a varsity jacket in honour of the visit.
"I started playing [basketball] at the age of six," the star guard said. "My uncles taught me how to play, because I would always follow them when they went to play, even though they didn't want to take me – I was their annoying little sister.
"I always followed them and picked up what they did," the final year sports management course student said. 
She said it's important to keep doing what one loves, even if others are discouraging them.
"Because at the end of the day, if you do not love what you are doing it's going to drain the life out of you," Nofuente said. "Basketball has been able to create opportunities for me.
"I found sisterhood through my teammates that I grew up with," she said.
Nofuente is hoping to continue her history-making sports career by winning her third consecutive national player of the year award from Canadian College Athletics Association for the 2017-18 season.
Christopher Whitaker, president of Humber College, appreciated the women who continue to make Humber the institution that it has been and continues to be.
"More than half of Humber's students identify as women, I would say about 60 per cent and our leadership represents about 50 per cent," he said.
"Because it is International Women's Day, I think it is an opportunity for us to celebrate and reflect where we currently are in terms of issues of inclusion and diversity," Whitaker said. "When we talk about Humber we always talk about its diversity and inclusion, it is something we take pride in, it is our culture."
He said it's important for the college and its administration to challenge itself and "look at different ways of thinking about ourselves, our perceptions and society, because our community [Humber] is always changing."
Duncan said women shouldn't be afraid to ask for mentorship because it allows their journeys to success in whatever field they pursue.
"My dream is of a world where women's stories are heard and valued in a world of science," she said. "To all the women here I say this: continue to push the status quo and push beyond the rope, take time to dream your greatest dream."