By Karina Nowyz
Life Reporter
Getting fit and healthy is ranked as the top goal of Canadians' New Year's resolutions for 2014, according to a recent study released by BMO Wealth Institute.
However it's also a resolution that is commonly broken.
To combat this, Humber Centre for Healthy Living is offering a way to avoid abandoning that resolution. Members of the centre have created a holistic approach to losing weight, and sustaining life-long habits for the college's faculty and staff.
"Most weight-loss programs focus on one thing, or maybe two," said Noah Gentner, professor in the Fitness and Health Promotion program. "If you go to Weight Watchers, it's all about what you eat and if you go to the gym, it's all about exercise. The holistic approach has to include everything," he said.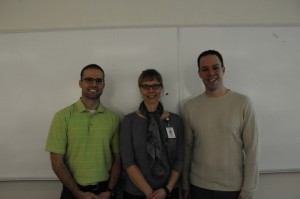 Gentner said the centre's healthy living project combined four components to its holistic service: exercise to teach people fitness skills, behavioural change to help people develop new healthy habits, and the nutritional and culinary components to teach people what it means to eat healthy.
The project has entered its second phase where participants are paired up with nutrition students in the School of Hospitality, Recreation and Tourism.
"Nutrition students in their last year apply their theoretical knowledge into practice with a real-life individual," said Sarah Coulson, instructor for the School of HRT. "This is the first time that it's part of the curriculum."
This collaboration with students allows participants to maintain their momentum to affect healthy changes, she said.
"I'm lactose intolerant but have osteoporosis, so I want to get the one-on-one sessions with a nutrition student," said Angella Nunes, a career adviser at Humber.
Although the program is only open to faculty and staff members, there is room for expansion.
"The goal is to make it available not only to faculty and staff, but students at some point, hopefully, relatively soon," said Gentner.
For more information contact Sergiu Fediuc at sergiu.fediuc@humber.ca or Noah Gentner at noah.gentner@humber.ca.