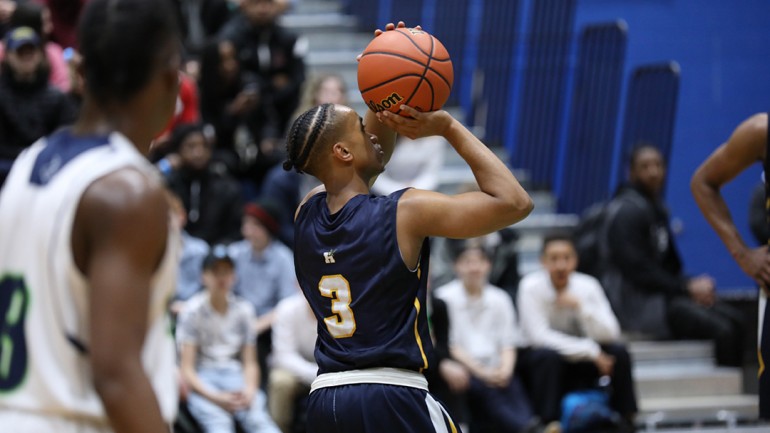 Scott Savard
Sports Reporter
Members of Humber men's basketball aren't happy about how they did at Nationals.
But if there's a positive takeaway, they know they've made personal gains and grew as a team.
The basketball team finished seventh out of a possible eight after dropping the first two games and then winning their final game in the CCAA finals in Laval, Que.
In their first game against the Nomades, Humber was up by 20 points in the final quarter but were unable to sustain the lead and lost in full comeback by the hometown Nomades.
Head coach Patrick Au said the Nomades' home crowd and having a young team that is learning factor in the loss.
"You know, you're playing the home team, it's packed full of people and they're cheering against you and there's a lot of pressure," Au said. "When you're a young, inexperienced team, those kinds of things will happen.
"You'll get caught up in the moment, as a coach you can only call so many timeouts, to kind of stop the bleeding," he said.
"We tried that and it's one of those things, it's hard for me to explain, but when you're in it, it's hard to stop and it just keeps going and you hope that you can get a bucket here or there to," Au said. "We had some close ones that just kind of didn't go and that's just kind of the way it is."
Hawks' point guard Fowzi Mohamoud is one of the young players Au referred to.
Mohamoud said he enjoyed his experience at Nationals and embraced the competition.
"It was a very positive experience, it was my first time at Nationals," he said. "It was something different, the competition was crazy, a lot of good teams."
"With me, when I play better competition I play at my best," Mohamoud said. "I felt like it brought the best out of me."
This was not only this first time Mohamoud played in Nationals, it was also his first crack at college basketball as well.
"It was my first year actually playing competitive basketball outside of high school," he said. "I learned a lot of new things from the vets and the coaches, just being composed, staying in the moment, being patient, stuff like that."
Byron Trench, a third-year power forward for the Hawks, came back after a break from basketball and found his passion for the game is still there.
"It was good to be back in the system because I have been off of basketball for a little bit of time," he said. "It was good to get back in the flow, proper structure of teammates, offence, defence, it was like learning all over again. It was great."
Trench is happy playing for Humber and would come back to play for the college if the opportunity is available.
"If Humber wants me back, I'll be back," he said. "I love this school, I love the environment. Basketball means the world to me. It's the stepping stone for me to be successful."
As for Mohamoud, he will be working in the off-season to solidify a spot on the team.
"Right now, I just want to get better. That's my focus, train hard and get ready for next season," he said.
Au was impressed with how the team did offensively this season, but he feels defence needs some work for next season.
"Well, I mean I think we made some great improvements defensively, but I think there's a lot of things we need to work on there," Au said. "I think offensively we didn't struggle at all. We had a great season offensively. A lot of guys had career numbers and scoring.
"That area is pretty good, but I think defensively we need to work on some things and I think the team's kind of changing a little bit, so we need to look at our schemes and how we do things and how we handle them and how we teach it," he said.
A high-scoring offence and tighter defence should put the Hawks in line for the National Championship next year.
But Au also wants fans to buy into the Hawks' game.
"Well we play sort of a modern, exciting kind of basketball. There is going to be a lot of scoring, there is going to be a lot of up and down and fast paced (basketball)," he said.
"If you like watching the NBA and you like watching Division One March Madness right now, we kind of play that exciting level of basketball and that's why people should come out and cheer them on," Au said.