Harjas Badyal
Sports Reporter
The life of Humber women's volleyball rookie Jasmine Lougheed is one of unexpected moves and events.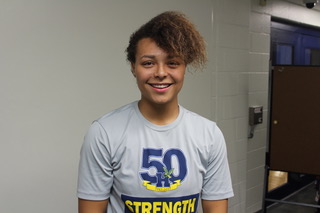 The St. Catherine's, Ont., native is bringing her skills to the already dominant program run under head coach Chris Wilkins.
Wilkins said he's pretty excited about the contributions she'll make to the 2016 National champs once the regular season rolling.
"She is a tremendous athlete and good team player who makes everyone around her compete," Wilkins said.
Starting the sport at 10 years old, Lougheed used her tremendous athletic ability, which led to her training under the Defensa program and the Niagara Fury.
It led her to being unexpectedly recruited by Coppin State University in Baltimore, Md.,
"That was a dream," the middle blocker says with a laugh. "Everybody wants to play NCAA Division 1 volleyball. But I was lucky enough to do it."
Unfortunately, that season in 2016 was tough. Coppin State limped to a 2-24 season, with lone wins over Norfolk State and Delaware State.
Lougheed experienced stress fractures in both legs and had to have titanium rods surgically put in. However, the season was not a complete loss, as she was named to the All-Tournament team at the Kristen Dickmann Invitational.
However, again unexpectedly, when she decided to head to another Division 1 school, she hit a snag.  A decision to transfer required her red-shirting one year, which would mean that she would have to sit there on the bench no matter where she went stateside.
However, that was not the reason why she returned to Canada.
One night on campus, she saw someone get shot on her campus, dying just feet in front of her.
"That was crazy," Lougheed said. "It was a pretty hectic time and I made my decision that night."
Wilkins was ready to recruit her to Humber immediately.
She said it was not a tough decision to head to Humber, with a streak nearing 135 wins and all.
"I love it," Lougheed said. "The streak is a great motivator for me and the team to continue it and keep going.
"The teammates here just allow me to be myself," she said. "Be goofy. I can do that with the girls here."
The team was more than happy to welcome her.
"She's a great asset to our team," assistant coach Dean Wylie says. "We're excited to have her but we're still trying to get her healthy."
Outside of volleyball, Lougheed's dream is to run a daycare for children with the ECE diploma she is pursuing. She wants to follow in the footsteps of her father, who himself is a successful entrepreneur.
"That is my true passion" Lougheed said, emphasizing she is focused on winning this season.
"We got a streak to keep alive," she said. "To me, Hawks is home."