Karina Nowysz
Life Reporter
While donating blood is a routine process for many Canadians, donating bone marrow for its stem cells is different, and requires a high level of commitment. The process is lengthy and can be risky.
It can however, be a life-saving process. And there are also easier and safe ways to harvest stem cells.
Coming to Humber College North campus tomorrow, the annual Get Swabbed! campaign hosted by Humber and the Uni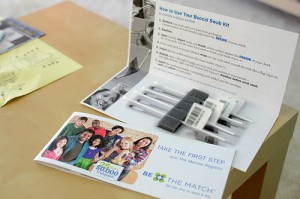 versity of New Brunswick Collaborative Bachelor of Nursing Program aims to recruit college students.
Getting swabbed is the first step to becoming a stem cell donor by finding matches for patients who need a bone marrow transplant, said Petra Alexis, registered nurse in the Health Centre at Humber.
"We are looking for donors for OneMatch to help increase the donor registry for stem cell and bone marrow," she said.
"It's a great cause and it only takes 10 minutes of your time to become a potential donor," said Lilet Raffinan, coordinator of donor management at OneMatch.
There are two processes by which stem cells can be collected in the event someone is found to be a match.
"Most common is the peripheral blood stem cells donation," said Raffinan. "It's like giving blood but instead of blood it will be your stem cells present in your blood."
This process is less painful than the bone marrow donation process, where stem cells are directly removed from the pelvic bone through a surgical process, said Rahul Sarugaser, director of business development at the Centre for Commercialization of Regenerative Medicine (CCRM).
"However, there is a third process of getting blood stem cells," said Sarugaser, "It's from the cord blood."
There's a whole industry around cord blood, which comes from a newborn's umbilical cord, said Sarugaser.
"There are basically six markers that you use to match people," said Sarugaser. "Ideally, you want to have a six out of six match but when you do cord blood, because the cells are immature, you can have up to four out of six mismatch."
It means there can be a lot more potential donors with cord blood, said Sarugaser.
"The probability of finding six out of six is much lower than trying to find a four out of six," he said.
The disadvantage with cord blood, however, is there is a small amount of blood compared to bone marrow transplant because it is from a baby, said Sarugaser.
"There's not enough cells there to treat an adult," he said
But new technology developed by Dr. Peter Zandstra of the University of Toronto is capable of expanding the number of stem cells in cord blood by 12 times, said Sarugaser.
"Now the cord blood unit has more stem cells than even a bone marrow or peripheral blood donation would have and we can treat an adult," said Sarugaser.
Going into the future, clinical trials may remove the need for bone marrow and full blood transfer, said Sarugaser.
Get Swabbed! takes place March 18 at the North campus Concourse from 9 a.m to 4 p.m.