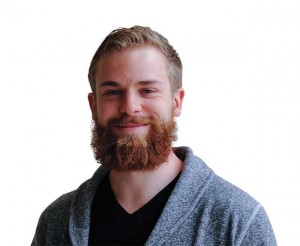 Adam Kozak, Senior Reporter

I once interviewed CP24 news anchor Nathan Downer. After rising meteorically to the top after having switching career paths into journalism, I asked him what drove him to work so hard, and he said, "you gotta believe they need you."
The field of journalism doesn't need me…on paper. I'm a white, middle-class, heterosexual man without a disability. I'm essentially like everyone else, except that I have a gnarly beard.
Yet I can't help myself when issues of race come up. When I feel I'm right, and can add something to the public discourse, I'll gladly chime in… even if it's not always appreciated.
While talking with friends, I had suggested that the Washington Redskins football team should have their name changed because it was offensive to some Native Americans. For this public display, I was called an "uppity-white person." It didn't sting, although I was taken aback a little by what was likely my first hint of anything resembling racism in my life. I'll put that feather in my cap as a socially concsious journalist, and keep on fighting the good fight.
I took it as collateral damage for discussing controversial issues. And I knew I was right, which helps.
While the Redskins name suggestion would generate about a five on the rictor scale of controversial sports topics, Richie Incognito's recent racial slur teeters on a 10.
A guard for the Miami Dolphins, Richie Incognito was suspended on Nov. 2 for being the prime instigator in a series of harassments against teammate Jonathan Martin. Incognito allegedly left voicemail messages for Martin, calling him a "half-n—– piece of shit," and subsequent remarks over months that allegedly caused Martin so much stress that he checked himself into a hospital.
This set off a heated debate among white and black sports journalists alike about the N-word's place in the game.
Michael Wilbon said on Pardon the Interruption, an ESPN sports talk show, that he uses the N-word "all day, every day of my life," and that white people have no right to tell black people how to use it. Charles Barkley had a similar sentiment, saying, "White America don't get to dictate how me and Shaq [O'Neal] talk to each other."
At the Washington Post, columnist Mike Wise chimed in with, "The N-word is filth; it's disrespectful, confusing and uplifts no one. I know of no other minority in the world co-opting a dehumanizing, racial slur used by its oppressor."
I'm a big fan of Mike Wise, but from one white journalist to another, Wise is being uppity.
Inserting yourself into race issues that doesn't involve your own requires strong listening skills, and this is where Wise shows he still has some work to do. Shaquille O'Neal said what was perhaps the most prescient thing in the debate, and it was something Wise acknowledged but didn't give credence to. Shaq said, "in the Ebonic culture (of African-American vernacular) we have programmed ourselves to use the word positive(ly). We have G14 classification to say it to each other. But when we say it to each other, believe it or not, it's in the positive sense."
Those three sentences alone should close the doors for anyone who isn't black. There are two main points Wise and other white journalists are making. One, white people shouldn't say the N-word (which I agree with). And two, that nobody, not even black people should use the N-word. Well, Shaq's statement nulls the second point. If it's meant as a term of endearment to some, and if we know this because it was said by a prominent person who is a part of that race and culture, perhaps it's our place as uppity white journalists to take a step back and listen—to listen deeply, get off our soapboxes, and try to understand a complicated issue that deserves thoroughness.
Due to my white skin, I'm not the guy to talk to when it comes to appropriateness of what words black people use when talking with other black people. I'll never have that right. I can talk with black people, read about the history of the word, watch documentaries – basically just try and understand, even though I'll never quite get to have a say.
I'm happy to sit on the sidelines here. I'm not needed.