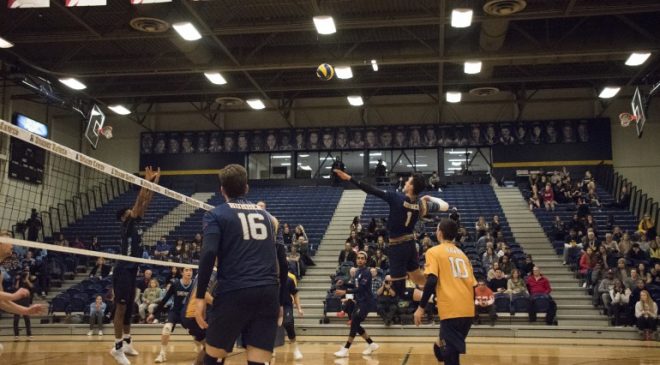 Bobby Mihalik
Sports Reporter
No matter the test or obstacle, the men's and women's Humber Hawks volleyball teams keep on rolling.
The women's team remains undefeated after two road victories last weekend against the Boreal Vipers and the Cambrian Golden Shield. Going into Wednesday's matchup against the Fanshawe Falcons, the Hawks have won 147 consecutive OCAA league and playoff games.
They are also one win away from their seventh straight undefeated season.
Despite their monumental success, the women's team has been repeatedly tested this year. The Hawks dropped a set against Cambrian on Sunday and struggled at times in a closely contested win over the Sheridan Bruins the previous Sunday.
Women's coach Chris Wilkins said his team is using these tests as a learning experience.
"We need to learn," he said after the matchup against Sheridan. "When you allow a good team to take control, then you're playing from behind and anything can happen.
"We have to really just make sure that we try to take control away."
However, even with any troubles, they may encounter, the Hawks' winning ways still earn them the praise of their opponents.
"I think overall Humber played a little bit more aggressive and executed their skills a bit better," said Sheridan coach Scott Hunt. "They definitely deserved to win the match."
The women's team is ranked number one in the province's college circuit.
Meanwhile, the second-ranked men's team has been keeping an equally impressive pace. But their 14-game winning streak ended Wednesday night against the first-place Fanshawe Falcons. Despite the loss, the Hawks still sit in second place in the OCAA West division standings.
Leading the way for the Hawks have been key players such as Dylan Devecseri and Kamyn Wilkins.
Wilkins, who had 20 points against the Sheridan Bruins and was named the Hawks' Nation Player of the Game, is glad to be a part of the team's success.
"Any time you can score a straight point for your team is a great momentum booster," said Wilkins of his performance.
After opening the season with a 1-2 record, men's coach Wayne Wilkins believes his team is growing more mature with every game during the win streak. This confidence was on full display in their matchup with Sheridan as their play improved throughout the match.
"At the beginning of the year, that probably wouldn't have happened," Wilkins said.
"But we've been through a number of these scenarios now all season.
"They've been prepared, and now they know what to expect at the end of a match."
With their spots in the standings solidified, both Hawks volleyball teams have their sights set on the OCAA Championships later this month.